"Le Chalet"
Experience authentic luxury at «Le Chalet» a fully catered ski chalet for up to 10 people in Saint Martin de Belleville. Located within the prestigious Les 3 Vallées, the world's largest ski area, benefit from the direct access to famous ski stations such as Meribel, Val Thorens, Courchevel, Les Menuires… Discover refined chalet authenticity and winter adventure at "Le Chalet" in Les 3 Vallées' skiing paradise.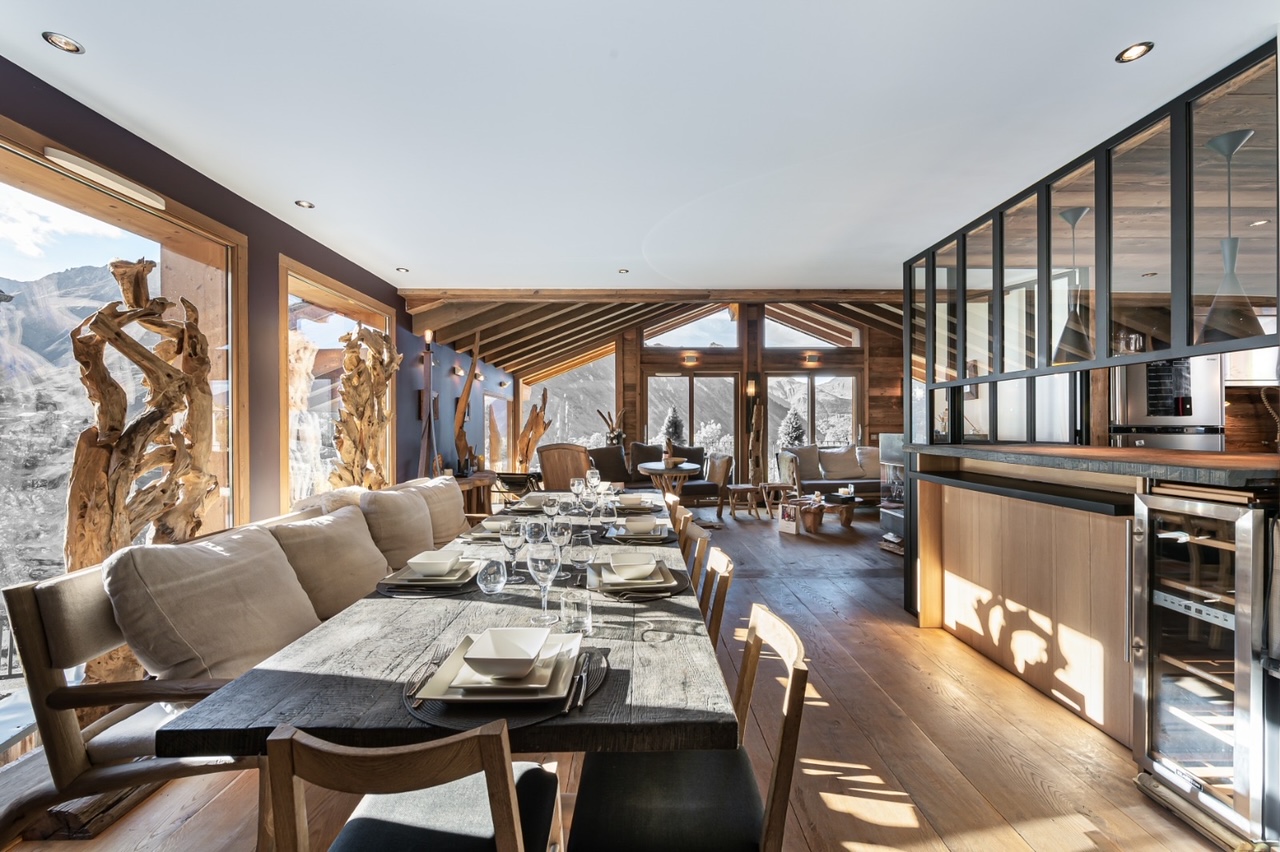 Introducing «Le Chalet» - A Luxurious Retreat in Saint Martin de Belleville
Welcome to «Le Chalet» in St Martin de Belleville, a magnificent 350m2 chalet with 5 double bedrooms designed for your ultimate comfort and relaxation, a place where genuine warmth and hospitality embrace you. Immerse yourself in the cozy refinement and inviting comfort of our carefully crafted sanctuary. Indulge in exceptional features and offerings that will create unforgettable memories:
Catered Excellence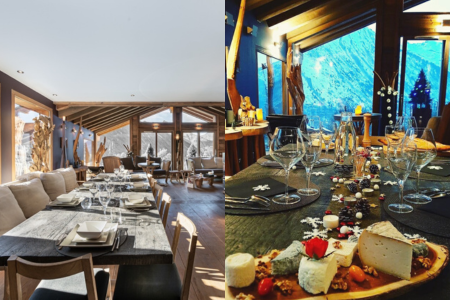 During the winter season, «Le Chalet» offers an exquisite catered package that promises culinary excellence. From the moment you arrive, be treated to a warm welcome with champagne and canapés. Wake up to the delightful aromas of a hearty breakfast, featuring a tempting selection of bacon, eggs, croissants, cereals, porridge, fresh bread, jams, yogurts, fresh fruit, fruit juices, and freshly-brewed tea and coffee. Indulge your sweet cravings with afternoon tea, cake, and mouthwatering French pancakes served on six afternoons. As the evening sets in, prepare to be enchanted by a delectable four-course meal, complemented by a carefully curated wine list. And of course, no culinary journey would be complete without a cheeseboard, featuring the finest local Savoie cheeses. Please note that our catered package is exclusively available during the winter season, ensuring an unforgettable experience for our winter guests.
Wellness Area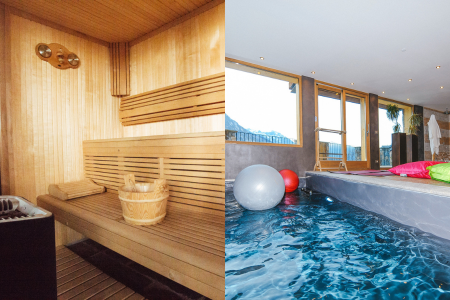 Relax and rejuvenate in our wellness area, complete with a heated indoor swimming pool, invigorating sauna and steam room, and an outdoor jacuzzi. Allow yourself to unwind and soak in the serenity of the surroundings.
Scenic Delights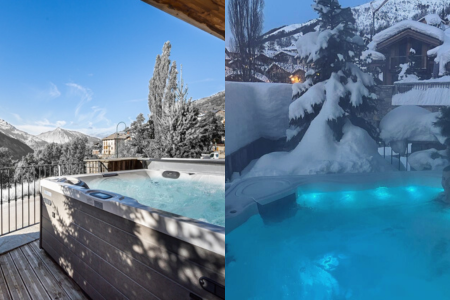 Indulge in the breathtaking beauty of the mountains from our outdoor warm jacuzzi (outside of the SPA zone), offering awe-inspiring views. Relax and unwind as you soak in the splendor of nature that surrounds 'Le Chalet.'
Cinema Room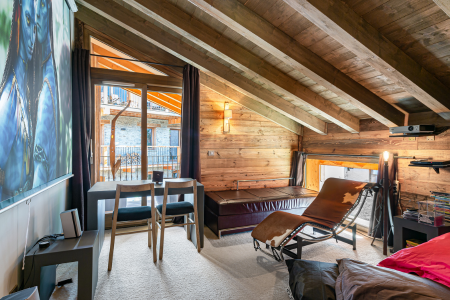 Immerse yourself in the ultimate movie experience in our cinema room, featuring a projector screen and sumptuous reclining chairs. For additional entertainment, we offer a separate TV room with a flatscreen television and a cozy sofa area, ensuring endless enjoyment for our esteemed guests.
Elegant Bedrooms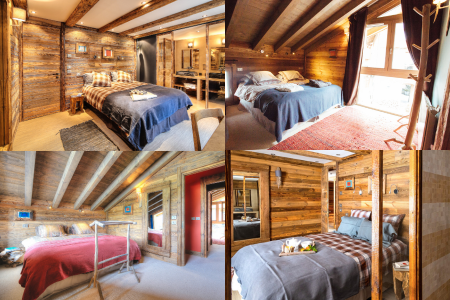 Experience utmost luxury in our 5 beautifully decorated bedrooms, each featuring stunning en-suite bathrooms. Whether you prefer a twin or double room, we guarantee a restful and tranquil stay, surrounded by exquisite furnishings and luxurious amenities.
Gastronomic Indulgence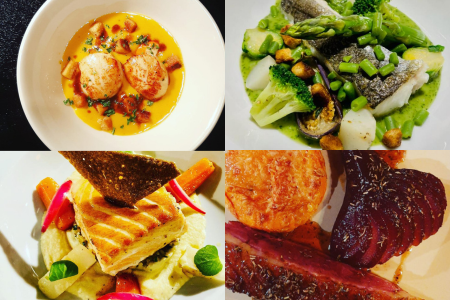 Delight in our relaxing dining area, where a real log fire creates a warm and inviting ambiance. From here, you can observe our talented French chef at work in the open plan kitchen, preparing culinary masterpieces that will tantalize your taste buds.
Secluded Retreat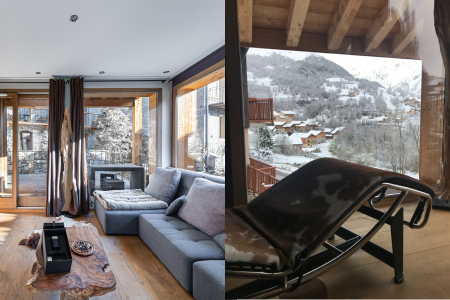 Unwind in our reading corner, featuring comfortable highback chairs and awe-inspiring mountain views. Allow the serene surroundings to transport you to a place of tranquility and inspiration.
Comfort for skiers above all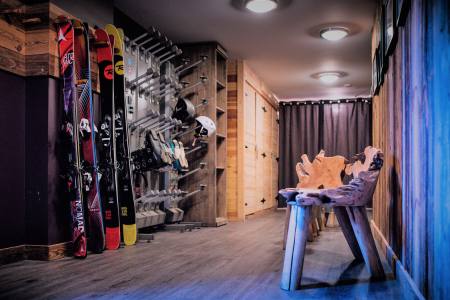 Our chalet offers practical amenities such as a spacious boot room equipped with heated boot driers/warmers, ensuring your gear is always ready for the slopes. Additionally, our expansive outdoor terrace provides a safe and secure area for both children and adults to enjoy the snowy views or take a refreshing break from the active day of skiing.
With prices starting from 250€ per person per week, «Le Chalet» promises a truly remarkable experience, where luxury, comfort, and gastronomic delight intertwine to create lasting memories.


Navigate through our website to learn more and book your unforgettable winter getaway for 2023/24. For bookings and inquiries, contact us at bookings@lechaletstmartin.com. We can't wait to help you create an exceptional winter experience at «Le Chalet».